Kloudspot wins Breakthrough Innovation award from Intel Corporation in the ISV Category
NEWS HIGHLIGHTS
Kloudspot is awarded the prestigious Breakthrough Innovation award in the ISV Category by Intel Corporation, a testament to their remarkable achievements and strong partnership with Intel.
Intel and Kloudspot's partnership is acknowledged for their exceptional performance in pushing boundaries and achieving excellence in the technology industry, demonstrating remarkable resilience and determination in the face of challenges.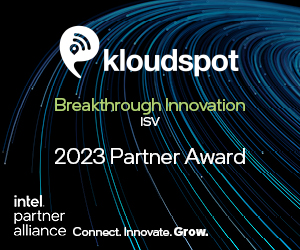 Taipei, Taiwan, May 25, 2023
– Kloudspot, one of the global leaders in delivering IoT, machine learning and artificial intelligence solutions, announced today that Intel Corporation has recognized the organization with an Intel Partner Award in the category of Breakthrough Innovation.
Kloudspot announced its new product, the Digital Twin solution, which leverages its five years of investment in building a ground-up IoT and Artificial Platform, named LISA (Location Intelligence and Situational Awareness). With its early focus on disrupting the Wifi smart solutions,the company today delivers a comprehensive set of IoT solutions that holds Access Points, IP Cameras, BLE sensors, environmental etc. into a single hardware-agnostic platform. With the launch of the Digital Twin, customers can now experience a fully immersive control experience delivering on the promise of Intelligent Interactive Spaces.
"Being a prominent global leader in providing solutions encompassing IoT, machine learning, and artificial intelligence, we are deeply honored by this recognition. It is a testament to the relentless dedication of our exceptional team. This acknowledgement reaffirms our unwavering commitment to empowering our partners to push the boundaries of innovation, leveraging the transformative power of IoT and Machine Learning. This award inspires us to strive for even greater heights and reinforces our passion for driving innovation in the industry," – Ravi Akireddy, Founder & CEO, Kloudspot.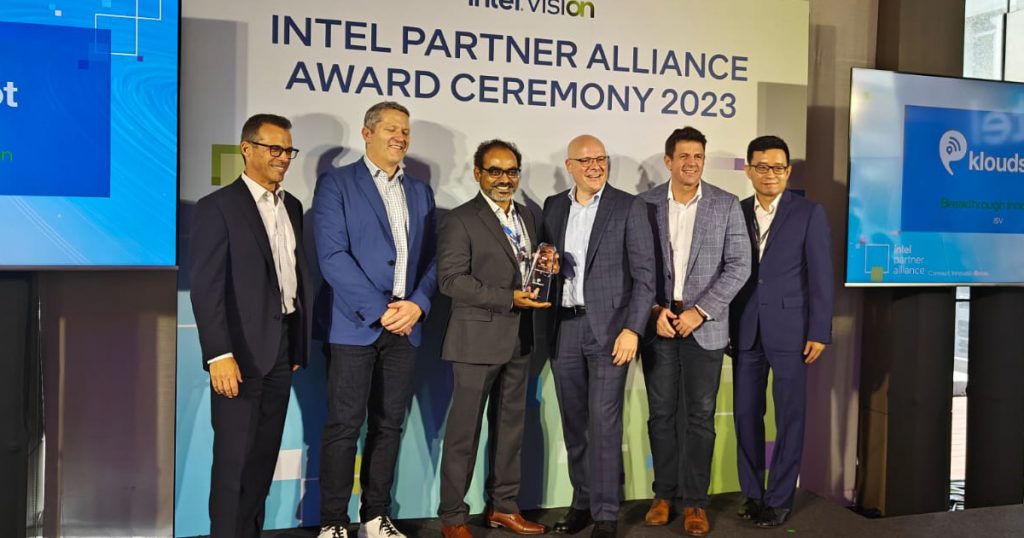 "We are proud to honor the exceptional partnership between Intel and Kloudspot in driving innovation and excellence in technology. What makes this year's awards for our APJ partners extra special is our shared commitment in overcoming adversity, exemplifying resilience and determination amidst the prevailing macroeconomic headwinds. APJ continues to be a leading growth region and we value the collaboration with our partners in offering the best solutions and experiences to our customers," said Steve Long, corporate vice president and general manager for Intel Asia Pacific and Japan.
Kloudspot was awarded for continually improving and enabling IT ecosystem partners in their ability to be innovative and bold. To qualify as a winner in the Breakthrough Innovation category, organizations must be a member of the Intel Partner Alliance as well as demonstrate over the past year a commitment to innovation and a proven track record of bringing new products and solutions to the market that feature the latest Intel technologies.
About Intel
Intel (Nasdaq: INTC) is an industry leader, creating world-changing technology that enables global progress and enriches lives. Inspired by Moore's Law, we continuously work to advance the design and manufacturing of semiconductors to help address our customers' greatest challenges. By embedding intelligence in the cloud, network, edge and every kind of computing device, we unleash the potential of data to transform business and society for the better. To learn more about Intel's innovations, go to newsroom.intel.com and intel.com.
© Intel Corporation. Intel, the Intel logo and other Intel marks are trademarks of Intel Corporation or its subsidiaries. Other names and brands may be claimed as the property of others.
About Kloudspot:
Kloudspot was born as a location-based services technology company in 2016 with an advanced, software-defined Wi-Fi networking solution that ensured networks were easy to install, monitor, monetize and manage, and delivered Wi-Fi reliability at global scale. Kloudspot today is a robust, network and cloud-agnostic SaaS platform that rides on the edge of any network infrastructure and connects via open APIs to key business productivity applications including Salesforce, Tableau, Microsoft Teams, Slack, Docusign and more.
The Kloudspot Platform uses data collected from Bluetooth, Wi-Fi, environmental sensors and connected cameras, married with artificial intelligence (AI), to convert the physical actions and movements of people and devices into digitally treatable data, and extract meaningful insights. With these insights, it's easy to develop rules that trigger engagements in the physical world. And the platform continually learns and optimizes those engagements on its own through advanced AI and ML.
*** *** ***
For media inquiries, please contact:
MEDIA CONTACTS:
Intel Corporation
Maria McGregor
760-936-7467
maria.mcgregor@intel.com
Kloudspot
Ashish Gupta
ashish@kloudspot.com