Hybrid workplaces: a distributed workforce of in-office and remote employees is now the NESIC 'office'
According to Gallup, the hybrid workplace – one that supports a distributed workforce of both in-office and remote workers – is now the expected future office. This changing office landscape is creating an urgency within businesses to create environments that offer flexibility and support to employees.
Ahead of the pandemic, NEC Networks & System Integration Corporation (NESIC), had decided to restructure its offices in anticipation of the influx of visitors to Tokyo for the 2020 Olympic Games.
A subsidiary of NEC, NESIC offers one-stop Information Communication Technology (ICT) services as well as maintenance, operations, and around-the-clock monitoring services at maintenance and service centers throughout Japan.
For its restructuring initiative, NESIC's goal was to make it easy for employees to work from anywhere by:
Opening seven satellite offices that would reduce the impact of employees commuting into Tokyo each day
Reducing the space of its headquarters by 60%.
Accommodating head-office, innovation base and training/R&D across multiple sites
The Challenge: Bring a "future of work" vision to life
In October 2019, the company began work to deploy an innovative, homegrown workstyle solution that would support a distributed workforce. Osamu Kikuchi , then NESIC's Head of Business Development, believed that, "Like many other businesses, ours is changing dramatically, very quickly. We need – and our customers need – a best-of-breed environment to keep up."
The multi-SaaS strategy was designed to support the new distributed environment. They called it Symphonict (SYMPHOny + ICT), a service platform that integrated multiple cutting-edge cloud technologies on a single network platform.
To enable this transformation, NESIC partnered with Kloudspot, a digital employee experience platform, to create an intelligent space by bringing together data from Wi-Fi, camera, sensors, and business applications in the Symphonict cloud. The end-result, real-time insights and actions to enhance productivity and assure health and safety.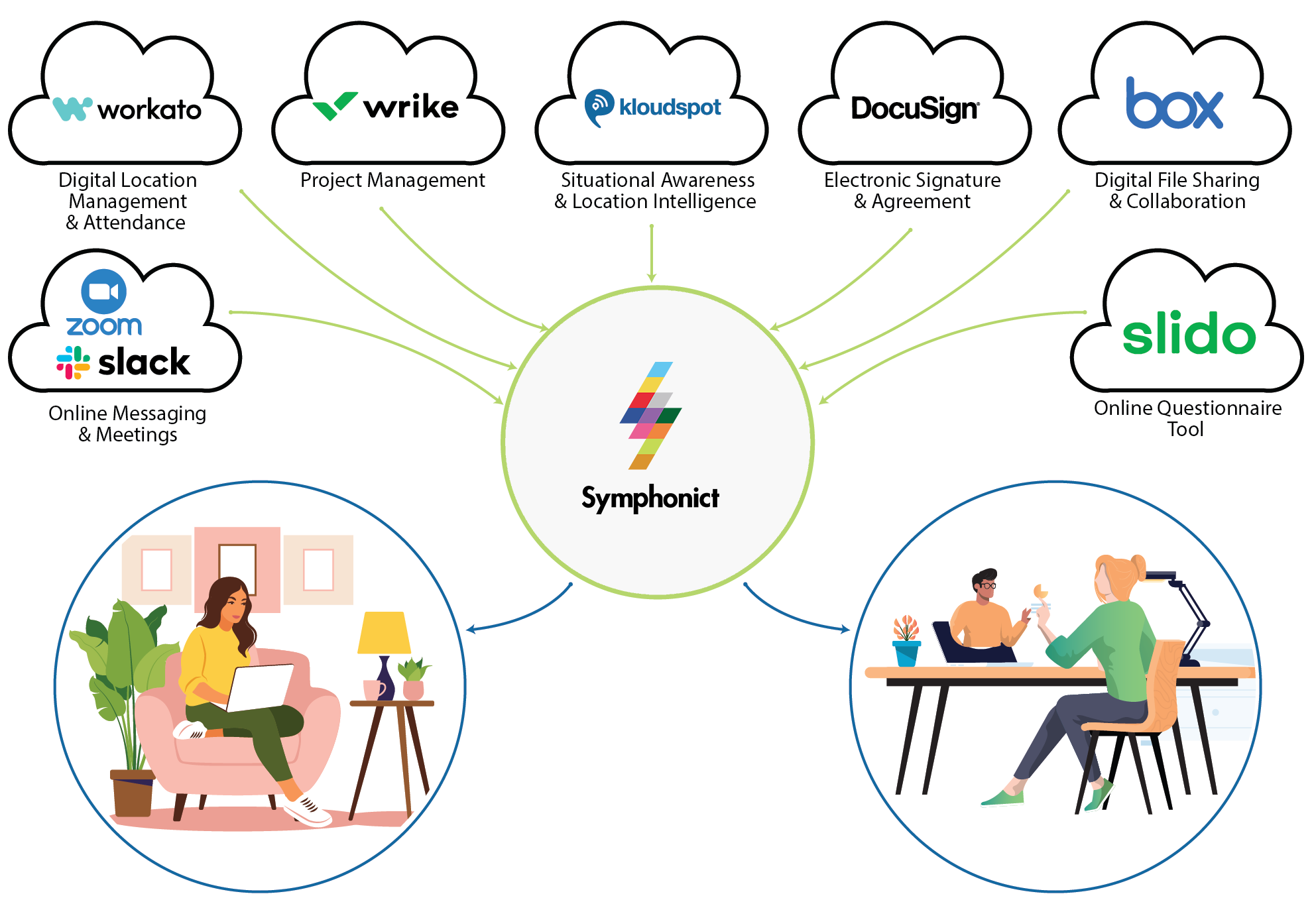 The Symphonict cloud partner network brings together many cloud platform technologies to enable integrated, unified management and analysis of data.
The Outcome: Symphonict's hybrid workplace solution was pandemic-ready.
NESIC's hybrid workplace solution couldn't have been better timed. The digital transformation initiative rolled out in April 2021, ahead of the Olympics, and in time to address the pandemic-enforced remote workstyle. While the rest of the world scrambled to adjust to the world of remote work, NESIC was not only prepared, it seamlessly migrated to a fully distributed workstyle.
Symphonict enabled connected on- and off-premise work – and had a built-in system to assure health and safety as offices slowly began re-opening. In the early days, Kloudspot's digital employee experience platform acted as the key, bringing together data from NESIC's spaces and enabling the company to create real-time heatmaps of people in the office, locate individuals, enable contact tracing, and help maintain social distancing.
Going forward, culture, communication, and relationships were all ported to the Symphonict cloud. With Kloudspot integration, employees were able to accomplish all their daily functions from any location, as effectively as when they worked in the office full-time.
For NESIC's Osamu Kikuchi, the value of Symphonict and Kloudspot's platform became instantly apparent. For customers who are considering Symphonict for their own organizations, he says, "prior to COVID-19, the value of the hybrid work model was hard to explain and to communicate ROI. But in a post-pandemic world, customers see how such a model supports both employee productivity and wellbeing in the (physical and virtual) office. It's very easy to understand now."
Like many, Kikuchi believes that the paradigm for on-premise versus remote work has permanently changed at NESIC. "We will have a new workstyle globally. A best-of-breed business solutions environment with multiple cloud services, like Symphonict, is mandatory."
The Result: An intelligent digital employee experience with Kloudspot
Kloudspot's data analytics is at the heart of the solution. Machine learning, analysis and AI workflows based on platform integrations with an organization's Wi-Fi, cameras, sensors and business applications data, provide insights and automatically trigger responses for what to do next, in business or in work-life.
With Kloudspot and Symphonict, organizations can:
Optimize office spaces intuitively based on heatmaps that provide visualizations of how spaces are being used.
Contextualize people, location, information and application data to make it easy for a distributed workforce to work remotely or onsite.
Provide employees with access to communication and collaboration tools, and leaders with performance and wellbeing insights that enable productivity across physical and virtual spaces.
All the while, protect employee privacy with settings customized to the organization's unique requirements.