The Kloudspot Platform
Kloudspot is the first Situational Awareness and Intelligence Platform that uses Wi-Fi and sensor data to create intelligent spaces and compelling, digital experiences for health and safety, lifestyle, workspace and education.
Request
a Demo
What does the Kloudspot Platform do?
Kloudspot uses real-time and historical data collected from Bluetooth, Wi-Fi, environmental sensors and connected cameras, married with artificial intelligence (AI), to convert physical actions and movements of people and devices into digitally treatable data and extract meaningful insights. These insights are used to develop rules that trigger engagements and experiences in the physical world. And the platform continuously learns and optimizes those engagements on its own through advanced AI.
See all
Use cases
WHAT IS KLOUDSPOT USED FOR?
Finding opportunities everywhere
From monitoring COVID-19 PPE compliance to delivering personalized programmatic advertising to customers, from connected transportation systems to safe and smart learning environments, every location, at every moment, yields an opportunity to connect with the people around us. Kloudspot continuously identifies, predicts and takes action in real time to maximize the opportunities you see in your physical spaces right now – and those you may not yet realize.
See All
Use Cases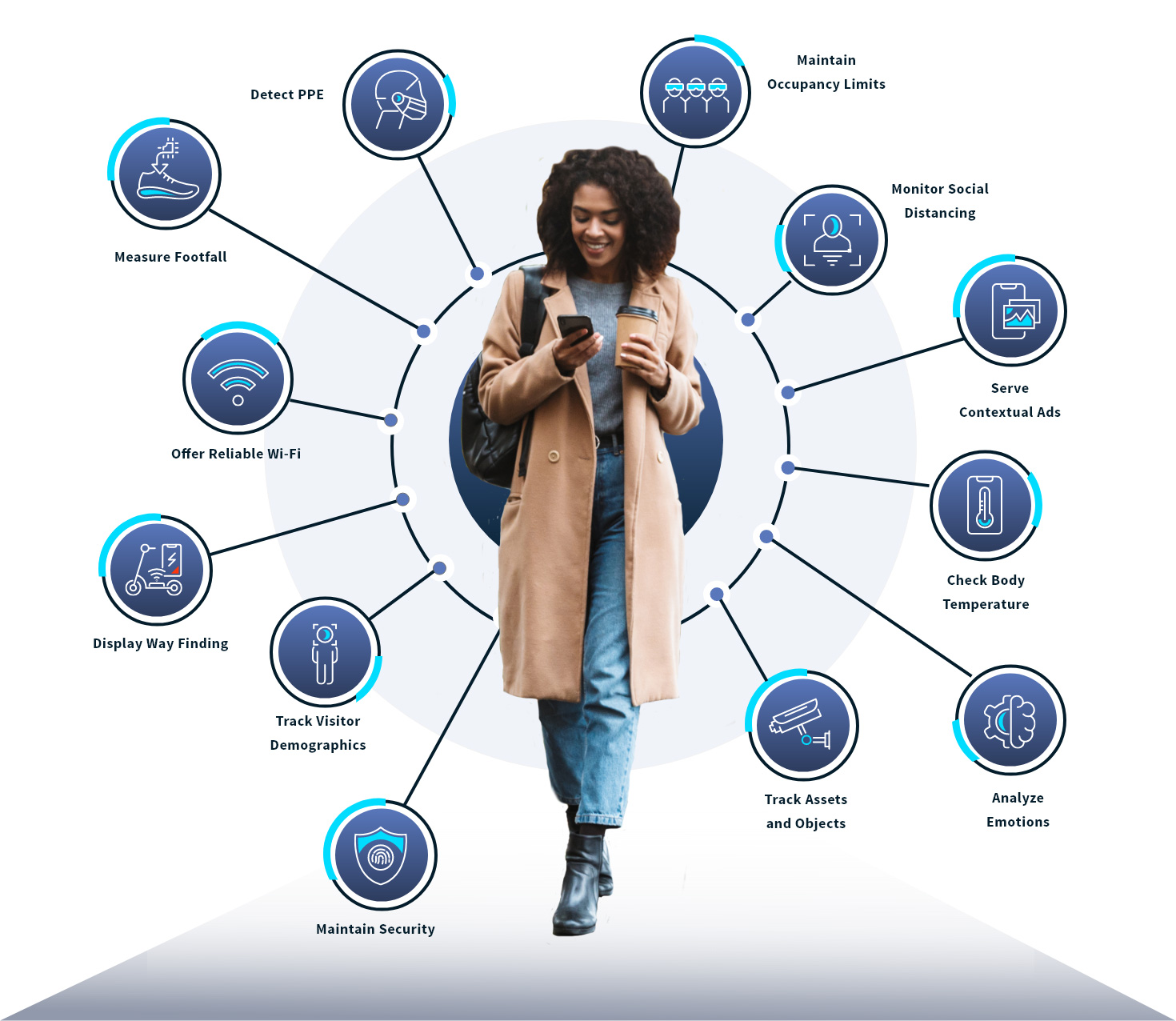 What customers say
We want to make Dubai Parks a destination and for visitors to experience a level of service never encountered before. We can now easily do this… Kloudspot gave us an opportunity to engage in a way that turns the traditional method on its head
– Group ICT Director, DXB Entertainments
Read
Case Study
WHAT MAKES KLOUDSPOT UNIQUE?
The Kloudspot Platform DNA
Kloudspot is a powerful platform-as-a-service that leverages the latest in sensor, network, and software technologies that gathers, transmits, and creates actionable intelligence from the physical world. A variety of wireless technologies underpin deep indoor and outdoor use cases, enabling cost-effective solutions suitable for a wide range of applications.

IOT Gateway
Intelligent and secure IoT connectivity from edge to cloud

Big-Data Analytics
Large-scale, multi-source data processing for real-time analysis

Situational Awareness
Obtain a real-time, dynamic view of your business

Network Intelligence
Visibility across the network, into any service and connected devices

Machine Learning
Use data sets to build smarter, continuous improvements

Real-Time video analytics
Near real-time video analytics for AI based faster decision making
HOW CAN I MAKE KLOUDSPOT WORK FOR ME?
Simple, secure integration and management
With Kloudspot, our open APIs enable fast integration with standard business productivity tools to maximize your investments in IT. Make changes any time – no vendor 'lock-in' or costly customization required. And do it all from a single pane of glass.
CENTRALLY MANAGED
Easily manage your Wi-Fi and sensor network

Update, monitor and track your devices

View real-time and historical data

Modify your network configurations from anywhere
RELIABLE AND SECURE
Kloudspot's security layer ensures that your network is always secure

Kloudspot's Access Points (APs) enable reliable connectivity

Automatic updates protect users from malware in real-time, all the time
OPEN APIS
Easy to integrate with third party systems using powerful, secure Web APIs
How can i partner with kloudspot?
Contact us today to get on the spot
Kloudspot Partners are spotting new opportunities and creating innovative solutions for their customers every day. Combining the Kloudspot Platform and a robust services portfolio with installed network equipment, connected devices and software applications enables our partners to maximize their revenue in this multi-billion-dollar space. With 24/7 global support, training and enablement programs, Kloudspot supports channel partners so they can deliver on-the-spot solutions.