Unlock the Full Revenue Potential of your Airport Operations
Using the Kloudspot LISA Platform airports can enable advanced digital solutions to streamline various operational processes and enable immersive passenger experiences in airports for better RoI.
Kloudspot LISA – The Platform for Airport Digital Transformation
Kloudspot's Location Intelligence and Situational Awareness (LISA) is a Platform as a Service offering. LISA enables Airport operations teams to source critical edge information from a multiple sources like Bluetooth sensors, IP Cameras, wired and wireless systems, operations systems, etc. into a single framework. With a hardware agnostic approach, LISA enables Airport operations teams to leverage existing hardware investments and allow full integration into software platforms from ATRS solutions, AODB platforms and to building management systems through its comprehensive API offering.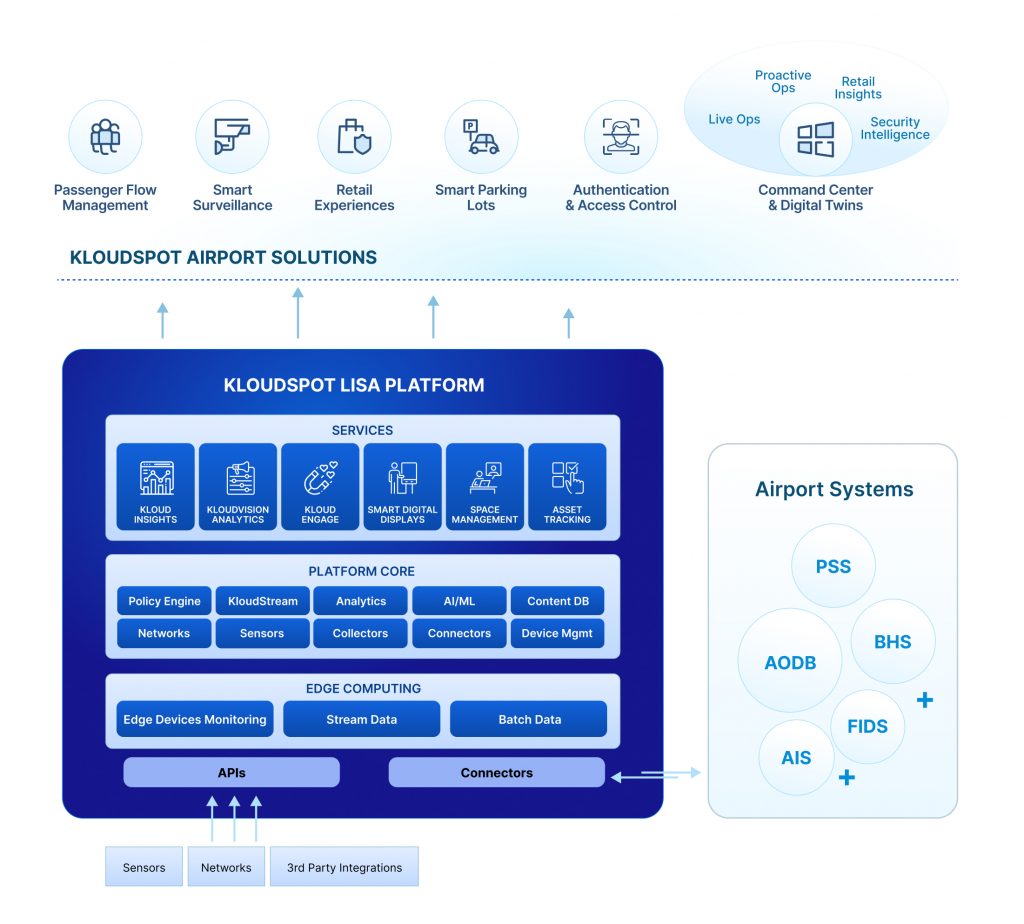 LISA's Situational Awareness continuously monitors and analyzes various factors, such as physical surroundings, events, behaviors, and data feeds, to provide a clear picture of what is happening in real-time and what might happen next. Airport managers can anticipate and respond to changes effectively, minimize operational blocks, and maximize performance.
LISA includes a powerful computer vision analytics engine
Kloudspot seamlessly plugs into existing CCTV infrastructure to leverage existing infrastructure investment. Kloudspot's Computer Vision solutions enables operational efficiencies, faster response times, predictive analytics and generate new revenue streams. Monitor and enforce policies, generate alerts, conduct forensic searches of historical video and generate data for simulations.
Some of the key applications include: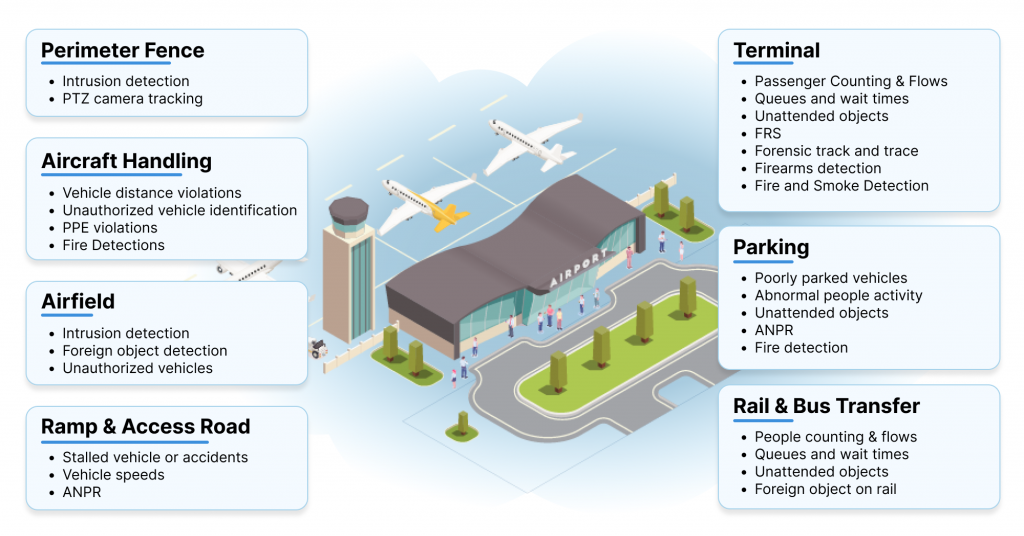 Key Out-of-Box Airport Solutions enabled by LISA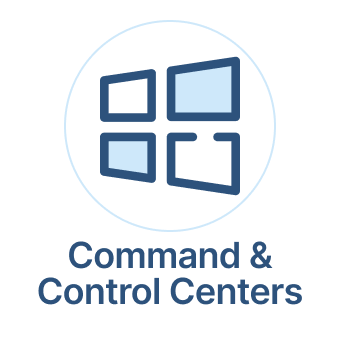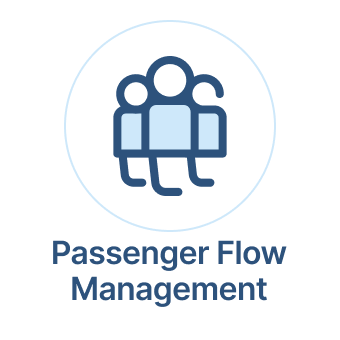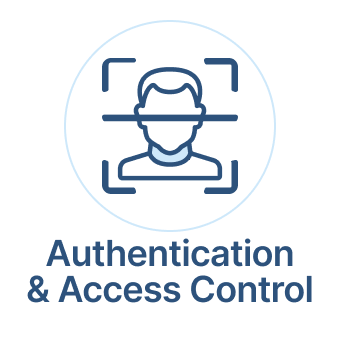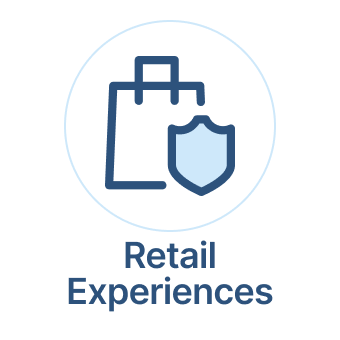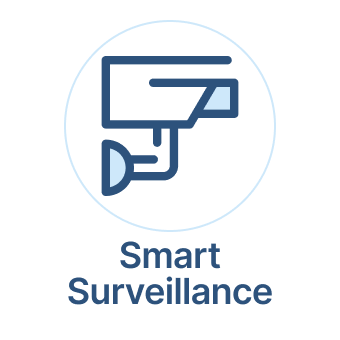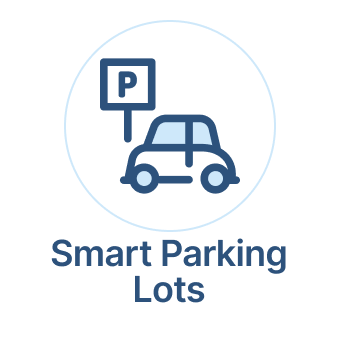 Kloudspot delivers a comprehensive command and control experience
Kloudspot LISA integrates with various subsystems, such as the airport's check-in system, security systems, and flight information displays and airport retail system and presents them through an immersive Digital Twin model. With an ability to offer a Command and Control framework, Kloudspot delivers Airport operations teams with the most flexible of management environment to suite their specific challenges.
Plan for the next day using advanced prediction algorithms. ​
Measure variances between planned and actual data and auto-generate notifications. ​
Plan staff allocation based on predicted load and optimize limited resources
Passenger Flow Management
Harness Kloudspot's Computer Vision capabilities to monitor and manage passenger flow from the kerb right upto the aircraft boarding bridge. The Kloudspot Analytics and Insights dashboard provides visualisations of all key performance indicators such as passenger volumes, wait times at various touchpoints, automatic detection of queue formation and dissipation and identification of peak traffic periods.
Provide queue wait times at various chokepoints
Deploy airport and airline staff efficiently to handle passenger loads
Use policy driven alerts to resolve issues with efficacy
Authentication & Access Control
Improve passenger and employee experience with Kloudspot's advanced face recognition software. Augment security operations with automatic detection of people of interest, providing access, generating alerts and notifications as necessary.
Facial biometrics for authentication of passengers and airport staff
Intrusion detection for perimeter security
Use policy driven alerts to resolve issues with efficacy
Increase Retail Sales
Enable digital services for Retail Shopping, F&B services and more. Improve customer delight at all touch-points.
Understand customer traffic to retail. Maximize retail revenues through designed experiences and analysis
Optimize staff hours for peak passenger traffic
Measure customer conversion rates using vision analytics
Smart Surveillance
Kloudspot's intelligent security and surveillance solution can autonomously detect and identify suspicious events, such as loitering, unaccompanied children, unattended baggage, asset/ object detection and tracking and more.
Identify suspicious activity, record precise video snippets, generate alerts ​
Identify firearms, smoke, fire and persons of interest. ​
Conduct forensic searches of video simply using NLP
Smart Parking Lots
Use computer vision analytics to streamline vehicle access and parking at airports. Identify vehicles in short-stay or long-term parking, loitering, fire safety and congestion in what is usually a sprawling parking area.
Automatic Number Plate Detection (ANPR)
Optimize parking lots by identifying poorly parked vehicles
Identify abnormal activity and loitering
Identify short-stay, long-term & abandoned vehicles
Fire detection
what customers say
"We especially liked Kloudspot's security-related data, the ability to create and adjust business rules, the robustness of the analytics engine, and the large amount of analytics that can be gleaned from the system."
read
case study
LISA's Computer Vision AI capabilities Facial Biometrics & People Tracking
Use facial recognition and monitor people movement within a pre-defined perimeter and across multiple geo locations. Demographics Data Extraction & Matching
Automatic estimation of a person's age, gender from facial images can help in better search and discovery when sorting large amounts of historical video data. Footfall Counting & People Tracking
Detect footfall, people movement, behavior around predefined zones to identify product or service interest, intent. and such as events, ticketing queues, washrooms etc for safety compliance and hygiene monitoring. ANPR & Vehicle Identification
Identify vehicles by reading number plates for access authorisation, repeat visit frequency count. Virtual Fencing & Policy Authoring
Define camera based virtual fences and track every security event with great precision and reduced false alarms Fire & Smoke Detection
Kloudspot Video Analytics can detect the presence of flame or smoke at its source. It can also detect reflected fire light when flame view are obstructed from camera. Safety Compliance
Detect smoking, helmets, face masks, PPEs, uniforms for safety and compliance Asset Tracking
Monitor position of fire-extinguishers and other safety equipment for availability and compliance